Story Party – true dating stories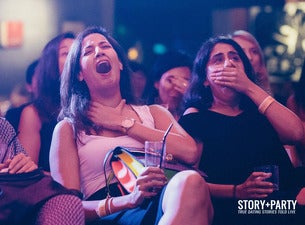 At Story Party you will hear true dating stories that will make you feel better because, let's be honest, it could be worse. Story Party has played to sold out audiences in over 65 countries because the dating struggle is real worldwide! You'll hear stories from our professional storytellers and some brave audience members.
We are in town for a short time only so grab your tickets. You've had enough coffee dates to master the art of fake laughing now come to our show and laugh for real!
— — — Wanna share your story? — — —
If you're dying to share your story write it down anonymously on our confession slips on the night and we will read them out loud so you don't have to.
NB: Rad 7 på galleri har ekstra forhøyede stoler og egner seg ikke for publium med skrøplige ben da disse stolene er høye!
Dørene åpner 1 time før forestilling.
RULLESTOLBRUKER:
Ring 51843850 eller send mail til: booking@stavangeren.no
Forestillinger:
November 2022

9

Ons

Story Party – true dating stories