Ed Byrne – If I'm honest…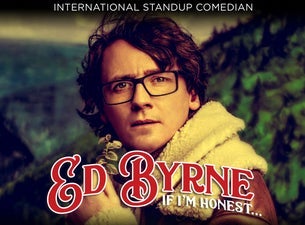 Join Ed on his Scandinavian Tour as he takes a long hard look at himself and tries to decide if he has ANY traits that are worth passing on to his children.
A TV household name, Ed has been seen on pretty much every TV programme in the UK including Mock The Week, Top Gear, Have I Got News For You, The Graham Norton Show, Live At The Apollo (Host), The One Show, Most Dangerous Roads, Dara & Ed's Big Adventure, Dara and Ed's Road to Mandalay, QI, The Pilgrimage and most recently BBC One's Celebrity Best Home Cook.
Ed has recently launched his podcast: Ed Venturing on Youtube or on his website as below.
https://bit.ly/3tWUfpo
www.edbyrne.com / TWITTER @MrEdByrne
PRAISE FOR ED
????? "A masterful display of the comics art…This is a seamless and perfectly timed show that could stand proudly next to any Izzard, Bailey, Carr or Skinner stadium-filler" SUNDAY TIMES
????? "The hour is self-deprecating, never self-indulgent, and his packed audience are well entertained" SUNDAY EXPRESS
????? "A master of observational comedy" BROADWAYBABY
????? "Expert stand up from the brilliant Ed Byrne" FRINGE BISCUIT
????? "Honestly, great…a superbly crafted hour of entertainment… definitely stand-up at its best… you are in for a treat… you would be remiss not to try and catch it" VOICE MAG UK
????? "A comedy masterclass with no wrong moves" DAILY BUSINESS MAGAZINE
Length: 60-75 min without break
NB: Rad 7 på galleri har ekstra forhøyede stoler og egner seg ikke for publium med skrøplige ben da disse stolene er høye!
Billettkontoret/dørene åpner 1 time før forestilling.
RULLESTOLBRUKER:
Ring 51843850
Link til Humorhuset Stavangeren
Forestillinger:
Februar 2023

17

Fre

Ed Byrne – If I'm honest…